Shopware have been building their latest ecommerce platform, version 6 for the last 3 years. The beta was officially announced at last years' Shopware community day (May 2019). The release of 6.1 marks the first commercially ready version of the platform, and we expect to see the adoption of 6 accelerate in 2020.
API Architecture
Shopware 6 is a completely new ecommerce platform, re-written from the ground up using an API first architecture, which means the frontend and backend of the application is independent, making upgrades quicker to deploy and allows for the application to be deployed as a headless ecommerce.

Read more about the API architecture
Sales Channels
Shopware 6 introduces an important new feature, Sales Channels, enabling merchants to use the platform as the hub for all retail operations: Regional websites, Headless applications, Amazon, Ebay, POS, you can even run a Shopware 5 website as a sales channel, providing a central hub for all orders and easing the upgrade process.

Platform for all stages of Merchant growth
A key part of the strategy for Shopware 6 is to provide an ecommerce platform that can power merchants from their very first order through to multi-billion operations - a trick that arguably no platform has been able to pull off so far.
The foundation to this is the provision of SaaS, PaaS and On Premise solutions coupled with the ability to move between them as the business grows. The SaaS solution will allow merchants to begin their journey with the Starter Edition, a low cost solution that will provide the basic functionality required to launch an ecommerce store. The SaaS solution is launching in May 2020 with the Starter and Professional Editions, and Enterprise will be available in 2021 followed by PaaS.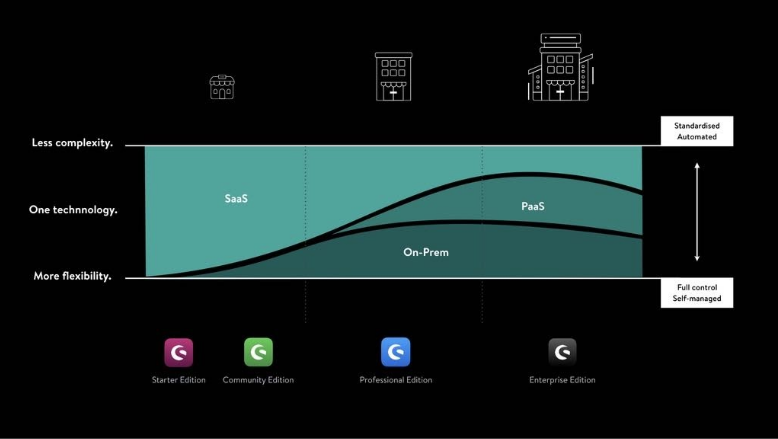 This mix of services means that Merchants can benefit from a low cost, fast SaaS version of Shopware safe in the knowledge that should their business requirements and complexity increase they can move to an on premise or PaaS solution for greater flexibility without having to move platforms.
Progressive Web Apps
The core team has been working closely with Vue Storefront to deliver PWA for Shopware 6, the result is a blisteringly fast frontend, and optimised mobile experience. The benefits of PWA versus a responsible or mobile app make a very compelling proposition for merchants looking to capitalise on the explosion of commerce on mobile devices